Feb 25, 2020
9,131
5,595
113
I see what you are saying, but the entire American West is the top down overhaul of a desert ecosystem under near unlimited federal power. The Newlands Act and the Bureau of Reclamation it created are as close to socialism as this country has ever come. In fact, it is just straight socialism. And the west today would not exist without it. Every single politician from the west, Democrat or Republican, has fought tooth and nail to defend it, because without it there is no American West. There's just a big, mostly empty desert. It is the height of irrationality, it was bound to come down sometime, and guess what? We are alive in that time.
There are good and bad types of socialism. There are a range of outcomes. In the limit, you can have this (which would be bad for our slow readers):
Lots of things are coming together at once here: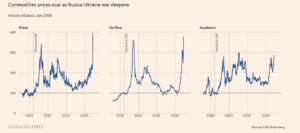 Bloomberg's Josh Wingrove reported yesterday that, "President Joe Biden said that the world will experience food shortages as a result of Russia's invasion of Ukraine, and production increases were a subject of discussions at a Group of Seven meeting on Thursday."
farmpolicynews.illinois.edu